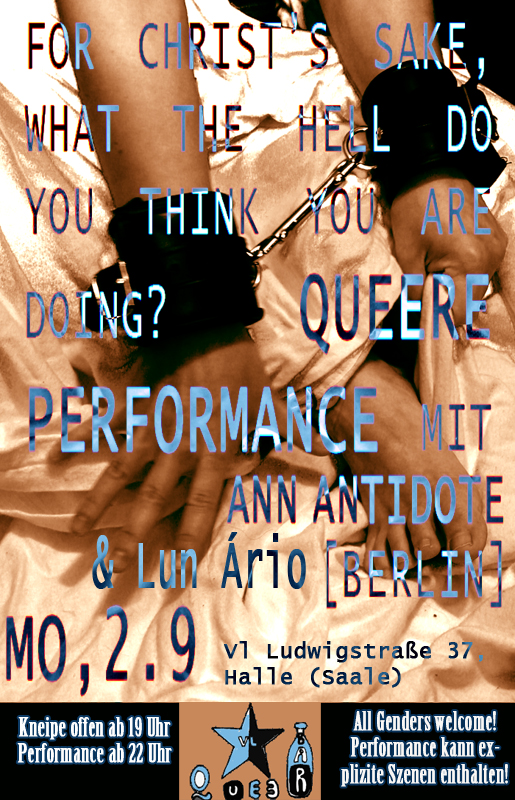 Wir freuen uns riesig, zur hiesigen CSD-Woche auch einen Beitrag leisten zu können. Im Rahmen der Queer-Bar wird es am 02.09. eine queere Performance mit Ann Antidote und Lun Ário (kollektiv "The Strange Life of the Savages") aus Berlin geben! Offen für alle Geschlechter – Kneipenbetrieb wie immer ab 19 Uhr, Performance ab 22 Uhr! Achtung: Die Performance kann explizite Szenen enthalten!
Und hier noch ein kleiner Vorgeschmack:
"At the cross, Christ suffers for all sinners and actually is boring himself to dead, actually. All that solitude, suffering and blood seem all of the sudden so anachronistic. All of a sudden that special music some admirer wrote for and about him starts playing, and things get a bit more cheerful… But the Church's authority is unforgivable…"
"The Sexual Life of the Savages: An informal group of queer DIY artists, bondage enthusiasts, and active utopists. includes film making, performance, music and teaching and/or coaching.
Common denominators happen to be themes which have to do with utopias, sex-positiveness, bondage, polyamory, and the free expression of all conscious, fair and consensual life-styles, identities and choices.
Art: as in anything created by human* hands, whatever one feels like declaring as art.
Bondage: the action of consensually tying up objects or human beings with an aesthetic or erotic intention.
Queer: the radical idea that safeR places are needed to accomodate all, and that we are all responsible for it, through active self-reflection and engagement. No discriminatory or aggressive behaviour of any kind tolerated. Inclusive, diverse, fair, interventive, beautiful and glittery."
Zur Facebook-Veranstaltung kommt ihr hier.